Swimming Nature were delighted to be featured in the Angels and Urchins Summer 2014 Issue. Please see below our published article:
Speedy Swimming      
Jimmy aged 9, was not a strong swimmer. He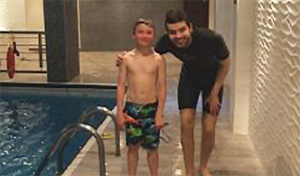 missed the swimming classes his siblings attended, didn't pick up much  from sporadic school lessons and would go to great lengths to avoid getting in a pool. It is not cool not to be able to swim, like not being able to ride a bike. And the embarrassment factor meant he refused to join a group lesson. Enter Swimming Nature's FAST TRACK course. Four half hour lessons on consecutive mornings over the Easter holidays in the warm calm waters of the Kensington Close Hotel. His teacher Josh was engaging and fun and by the end of the first lesson Jimmy was already heaps more confident and had started to get the hang of the breathing. At the end of the week, not only was he happily swimming a length of front crawl but he has voluntarily signed up to a term of classes so he can get 'really good'! A total triumph.
Swimming Nature have over twenty venues across London. Fast track courses from £135 for 5 days 1:1. Tel: 0844 504 0506. Website: swimmingnature.com
Article taken from Angels and Urchins Summer 2014 Issue
Turner, E (2014) Angels and Urchins Summer 2014 Issue, London4 504 05