Summer is a time when every parent / carer wants to enjoy their holiday safe in the knowledge that their children are confident in or around water. At Swimming Nature, we believe your child's safety is paramount.
Therefore, to mark World Drowning Prevention Day (WDPD) on the 25th July – an annual campaign created by the UN to promote the teaching of swimming, water safety and safe rescue skills – we have prepared some useful tips and advice to help you and your family have fun, and be safe this summer.
Our top five tips will also provide the basic advice you'll need to help your child gain basic water confidence and get your child ready for professional swimming lessons.
"The main aim of building up water confidence is to prevent fear, which can lead to panic. By teaching your child about the properties of water you can help to reduce or eliminate this fear by showing them how to be safe and also have fun with water."
Tip One – Lead by Example
As a parent / carer, you are the closest person to your child and they trust you. Showing them how much you enjoy the water is essential. Over the summer, take them to your local pool and have fun playing together as a family – you can even make a splash in the bath at home.
Tip Two – Get the Basics Right
If we look at some of the basic principles of learning to swim, there are many practical and fun ways you can introduce them to your child outside of a swimming lesson environment.
Basic Movements – through creative storytelling, songs and games, encourage your child to try moving through the water in different ways such as running, hopping and jumping. "Simon Says" is always a good game!
Blowing Bubbles – making sure your child only breathes in through their mouth to avoid the horrible sensation which arises from accidently sniffing the water. Practise by humming a favourite tune while having their face out of the water, and then gently encourage them to move their face into the water while humming to produce bubbles. Talking, singing, or even shouting into the water works well too.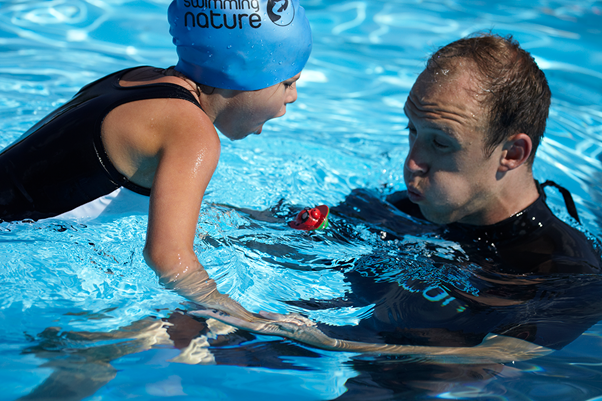 Tip Three – Open Your Eyes
Play hunting for treasure by sinking objects under the water. Ideally start in the bath and transfer the game to the pool – this is also a fun game to play on holiday together. Start them gradually on the surface, and then when they are ready, encourage them to go under the water with their eyes open to retrieve the treasure.
Getting your child to put their face in the water is such an important stage that there is nothing wrong in using goggles to begin with. One suggestion favoured by parents, which we liked, is to 'forget the goggles' one day, and the general excitement of playing the game should be greater than the loss of the goggles.
Once they are confident, try moving the 'treasure' further away as a first step to encouraging them to start swimming underwater.
Tip Four – Jump In
Start by sitting your child on the poolside and then get them to stand or play 'rocket blast off' – always making sure you support them if they are not yet confident, as they need to know you are there to help them. A game children love is Humpty Dumpty – sing the song and encourage them to push away from the wall into the water. Progress to standing and reduce the amount of support you are giving them until they have the confidence to jump in by themselves.
For safety, make sure your child learns how to jump away from the pool side not just into the water, and to always check the pool is clear to avoid any collisions.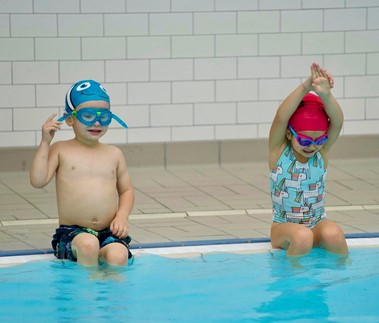 Tip Five – Floatation
One of the biggest achievements is to get your child to float, but it's not always easy.
The head defines the position of a child's body in the water, and this is the reason why you can only get someone swimming properly if they are confident and relaxed floating in the water. Once they can, you know your child is in control and is able to be safer in the water.
Floatation forms the basis for all swimming strokes, and is a key lifesaving skill as well. Keep practising through play, and provide support until they start to find their balance.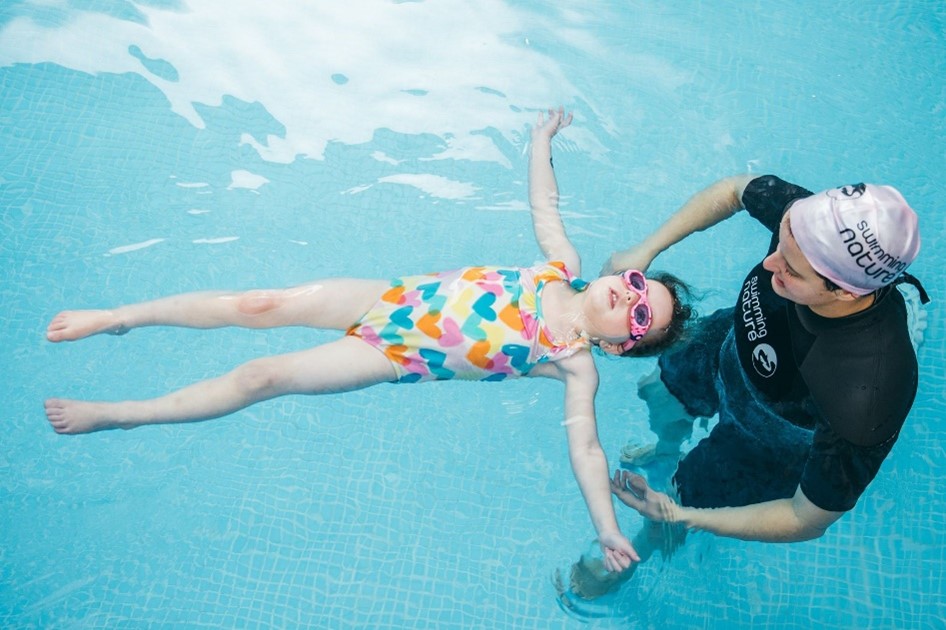 If you are serious about your child gaining water confidence and learning to swim naturally, find out more about our 1:1 and 2:1 private swimming lessons here
https://www.swimmingnature.com/children.html
Have a great summer, and have lots of fun.