Swimming Nature is delighted to announce that we have won at the Active Training Awards for the category of 'Innovative Concept of the Year'. With the recent statistics from the ASA showing that 45% of 7-11 year olds cannot swim a length of an average pool, this award comes as validation of the hard work we have been undertaking here to motivate more students to swim longer. Additionally, with the strong industry competition in this category, this award has meant that we can start to bring swimming to the forefront of getting more people engaged.
Our innovative concept is based around our great teaching programmes which we undertake for our instructors, coupled with the data we gather from student assessments on poolside. This important data is used in order to develop our programmes further, as well as target students who require additional training in order to achieve more.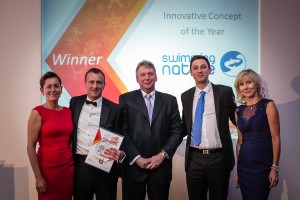 We have also created our innovative teacher lesson plans which we are currently rolling out within the company. These digital lesson plans have been developed in a way that creates a bespoke lesson plan for the students who are swimming in the lesson – personalised to where their progression is at.
We look forward now to developing further, and releasing some of the great new projects to motivate our students further.
More information on the training award winners can be found here.