Autumn is officially in full swing. The cold weather has set in (surprisingly quickly!), your children are back at school, this year's Summer holiday is gradually becoming more of a distant memory and you're probably already thinking ahead to Summer 2020.
Have you chosen your next holiday destination already? After reading this article, you might be swayed to try one of the places from our list! If your child can swim, a wealth of different options open up where breaks are concerned. Worrying about their safety whilst they're in and around water will become a thing of the past – and you can consider visiting one of these incredible locations! You'll soon find that the water will be calling your name.
1) The Philippines – Swimming with whale sharks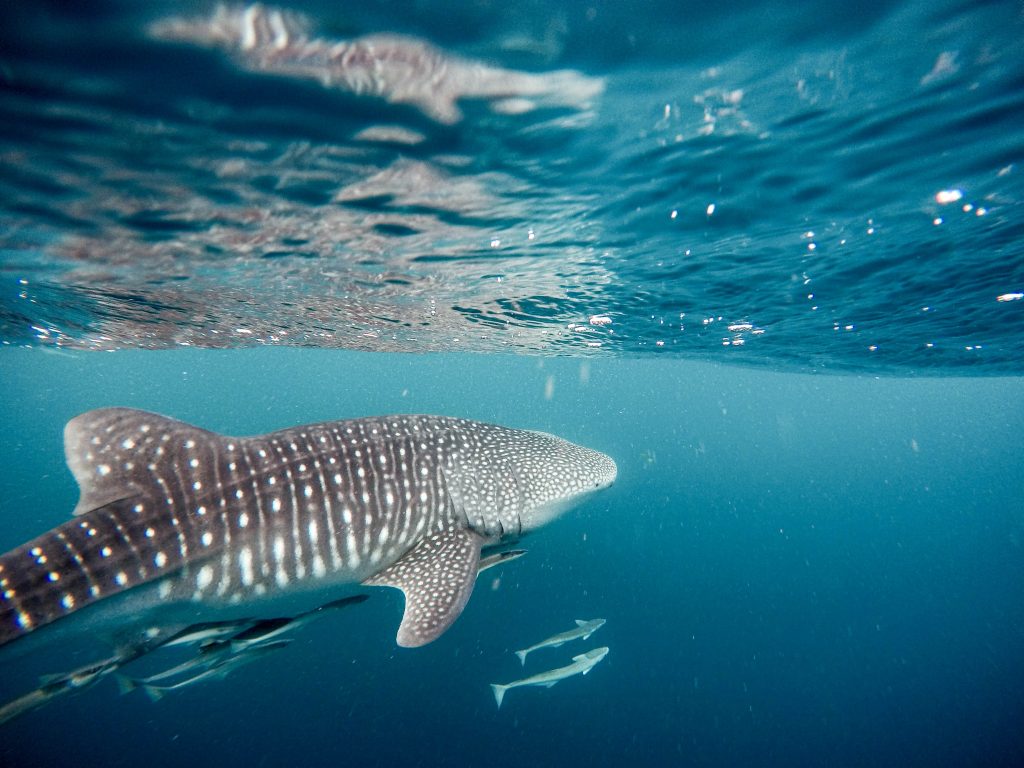 You might know of the Philippines for its volcanoes, gigantic shopping centres and friendly locals. However, the opportunities to swim in the beautiful reefs and oceans which surround the Archipelago outshine any other activity for us. It's hardly surprising that there's so many options, as bounded by the Pacific Ocean to the east, the Bashi Channel to the north and the Sulu Sea to the south, this group of over 7000 islands boasts more than 150,500 kilometres of coastline.
When diving into The Philippines' reefs, visitors are able to marvel at the tranches of tropical and colourful corals. Living in this underwater world are groups of turtles, rays, and most incredibly – whale sharks. Discovered in the fishing village of Donsol in 1998, these gentle giants are one of the most majestic underwater creatures. Perfectly child friendly, as children under 12 are only restricted by having to enter the water with direct adult supervision, seeing these creatures in their natural habitat is a once in a lifetime opportunity.
Tourists should, of course, make sure that they are swimming with the sharks in a sustainable way. The creatures should not be exploited, stressed or injured. Bays such as Sogod Bay in Southern Leyte offer this. Thus, you can make sure that you and your little ones have an unmissable encounter, in an ethical way.
2) Iceland – The Blue Lagoon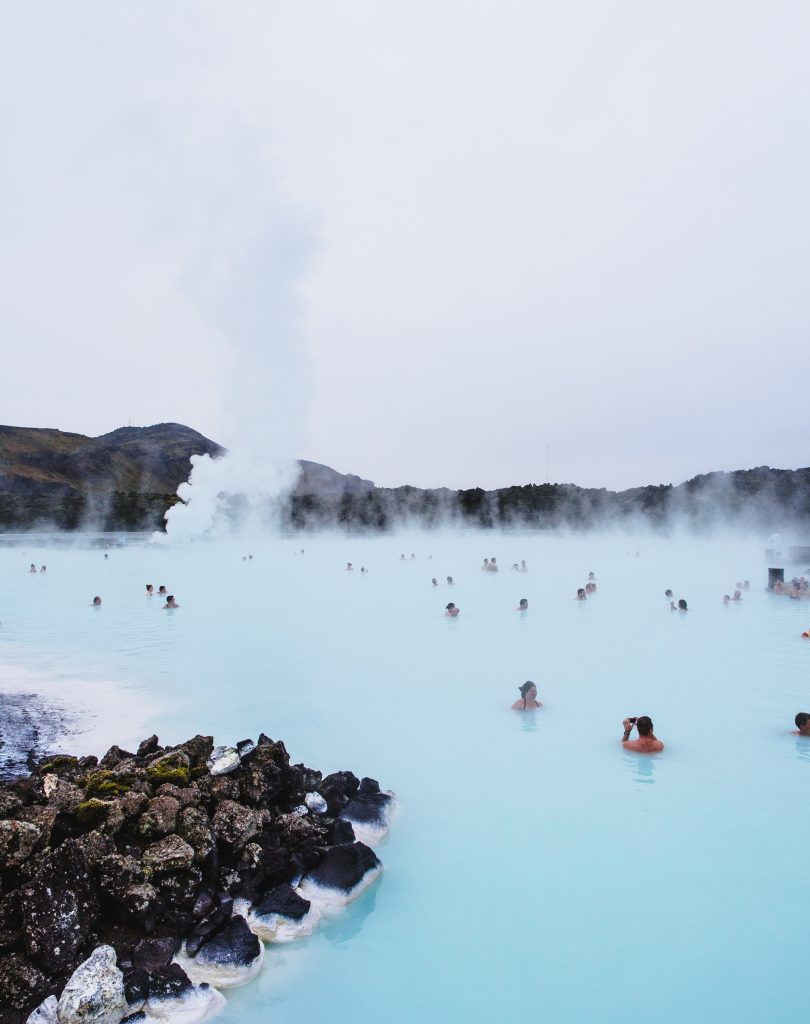 Iceland's Blue Lagoon is one of the top tourist destinations in the world, and for good reason. Formed from a natural hot spring, this location is perfect for those who are looking for something different, and not just a standard beach holiday.
A natural geo-thermal spa, conveniently located between Reykjavik City and Keflavik Airport, the Blue Lagoon is amazingly beautiful with its cloudy blue-white water. However, the lagoon is also considered to have notable regenerative qualities, as its water is incredibly rich in both silica and sulphur. The temperature in both the slightly raised bathing area, and swimming area, sits at around 37-39 degrees. This makes it an ideal warmth for complete relaxation. Just sit back, apply some white silica mud mask to your faces, and feel your worries wash away.
Not only is the lagoon completely accessible for children, as children as young as two can enter, Iceland's culture itself is particularly child friendly. With a societal attitude of general safety, it's common for Icelandic children to play outside alone, even after dark.
The Blue Lagoon is just one of Iceland's many magnificent features. From glaciers, waterfalls and whale watching being just a few of the activities you can do, you will never be bored for choice!
3) Mexico – Cenote swimming and diving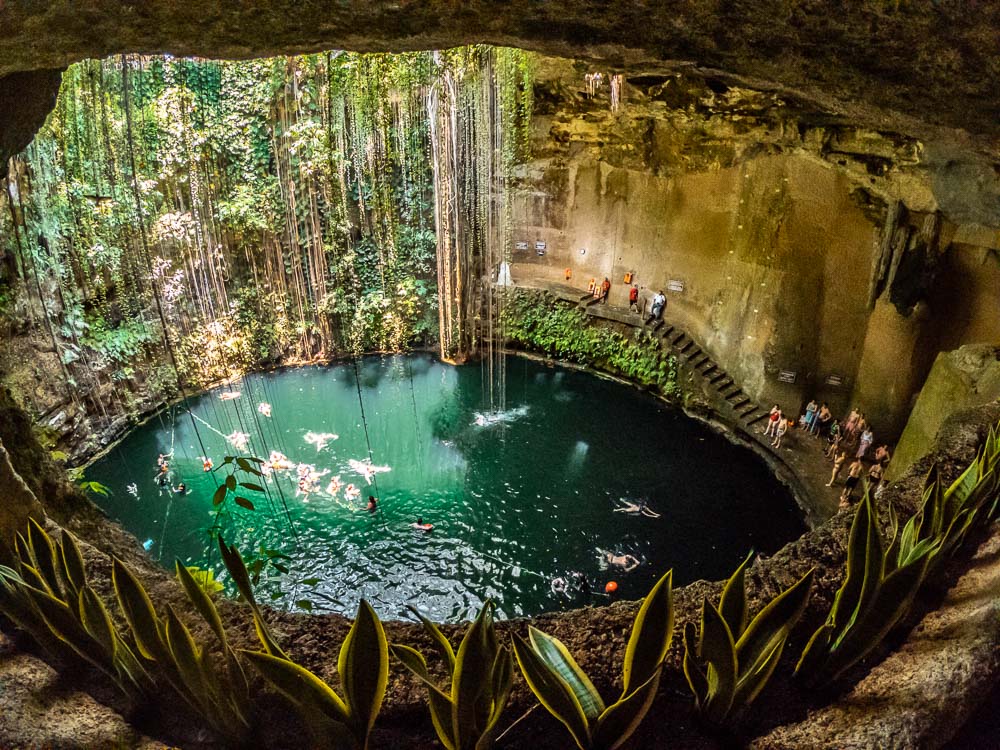 Home to Chichen Itza, one of the Seven Wonders of the World, there's no question that Mexico boasts a rich ancient history. For those that love to swim, cenotes form part of the peek into an archaic world that visiting Mexico presents. These vast and beautiful sinkholes exist throughout the Yucantan Peninsula. Due to their size, they have been major scuba diving, swimming and snorkelling attractions for many years.
One of the best rated cenotes to visit is Ik Kil Cenote, situated just outside Piste in the Tinum Municipality in Yucatan. This perfectly round pit, which is complete with flowery vines which hang down from the sinkhole's opening and waterfalls, is an unbeaten natural beauty. Take a dip in the crystal clear blue waters which are at least 40 metres deep, explore the underwater limestone formations, or rest on one of the docks which are available for sunbathing.
Alongside this, be safe in the knowledge that there is a platform around part of the pool, as well as large wooden ladders to assist in getting in and out of the cove, making it a great place for children to explore.
4) Alaska – Chena Hot Springs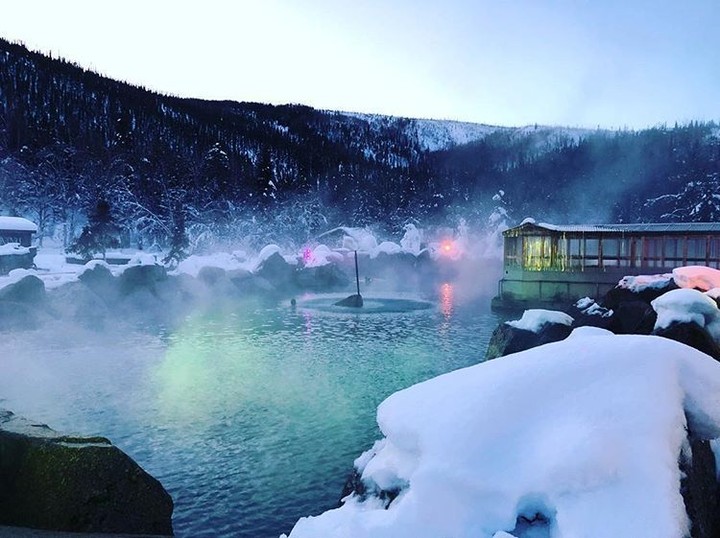 For those that aren't keen on a beach holiday, and are after something slightly colder, perhaps consider visiting the Alaskan Chena Hot Springs. Centred around the hot spring lake, this amazing resort was discovered in 1905, and became famous for curing those who experience crippling aches and pains. Each year, people still rush to this spot for the rich mineral water's intense healing powers. Relax in the 41°C water, and feel your worries melt away.
However, the Chena Hot Springs are more than just a wild thermal spring in which you can swim. Visitors are almost guaranteed to witness the Northern Lights, due to them being visible a whopping 200 out of 365 nights out of the year. If seeing the dancing lights of the Aurora Borealis isn't enough for you, you and your family can enjoy hiking, horseback riding, sled-dog cart rides, rafting, canoe trips… you name it, the resort offers it!
5) Jordan or Israel – The Dead Sea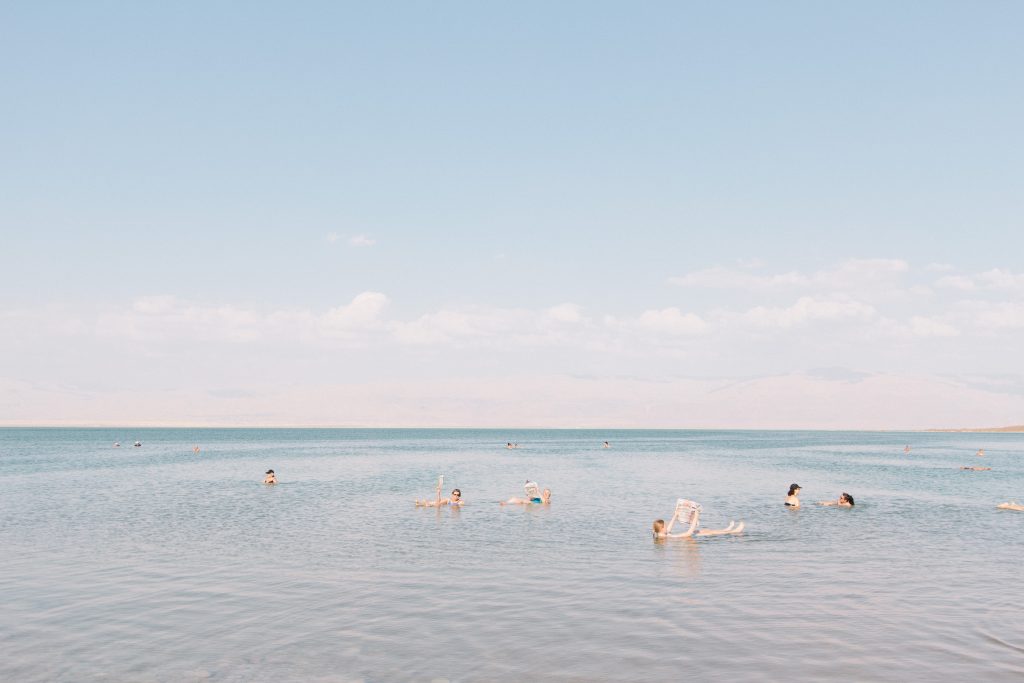 We're sure you'll have heard of this destination. Famous for its hypersaline water, this lake is one of the most talked about bodies of water in the world – and we're sure you'd find that it lives up to its reputation!
An amazing natural wonder, the Dead Sea sits at nearly 430 metres below sea level. This makes it the lowest place on Earth. Its name comes from the lake's salinity, which averages at about 35% – an inhospitable environment for fish, as no marine life can survive in the waters. However, for humans, the other surprising result of the lake's saltiness is that you can sit in it without sinking! Due to this, the lake has attracted visitors for thousands of years, including individuals who are curious about the renowned health and healing properties the water holds. We can promise that swimming here will be an utterly unique experience, for you and your loved ones!
6) Scotland – Wild swimming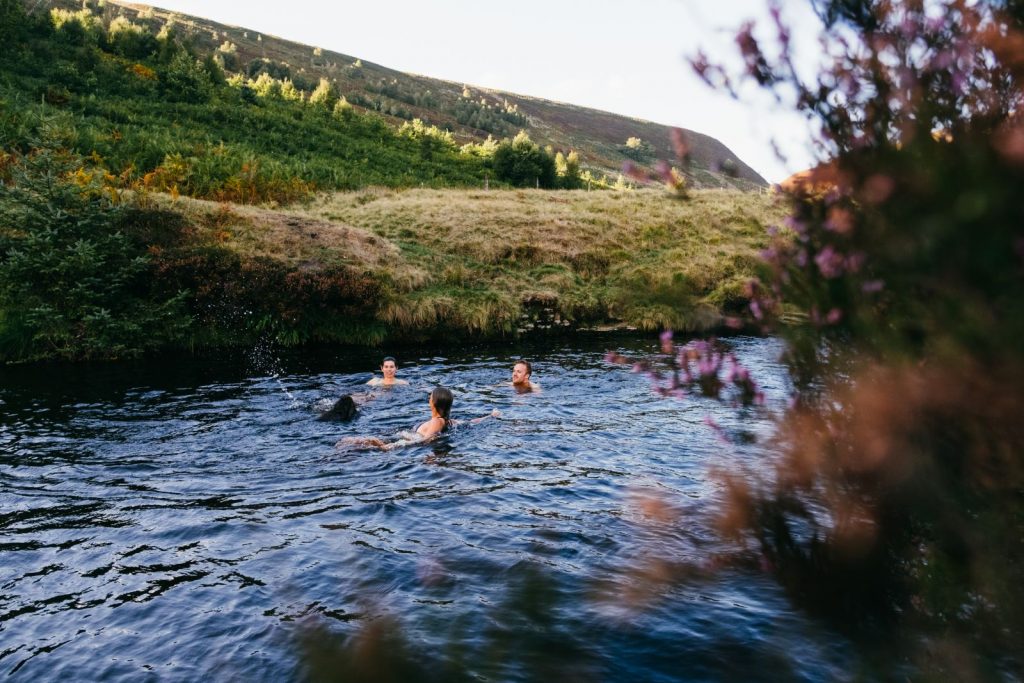 Last on our list might not be the most exotic location… but the opportunities to swim are second to none! For those who long to be in a cooler climate, spending a week or two in Scotland is the answer. There's something so invigorating about deciding not to wear a wetsuit, running into the fresh water and experiencing nature first-hand through wild swimming – or swimming done in outdoor lakes and bodies of water.
Wild swimming in Scotland is highly recommended during the Summer. This is due to the waters having warmed up to around 15°C country wide. At this time, the Scottish landscape is breathtaking and beautiful. When visiting, you'll be surrounded by picturesque rolling green hills and bright blue sky, as you have the opportunity to get back to nature and take the kids away from those screens.
With plenty of different locations to take your pick from, you and your family will be spoilt for choice. We'd recommend Glen Rosa in the Isle of Arran, which offers plenty of swimming spots, in both rivers and seas. With emerald green pools and a fairly low-lying glen which makes for an easy walk up to the waterfalls, Glen Rosa is spectacular. However, the valley is also practical for those swimmers who are just starting out. When swimming with young children, this is important. Although there's nothing inherently dangerous about wild swimming, you should always try to choose a river or lake with a gentle slope. Parents should also make sure to check for depth and deeper holes before they let their little ones paddle.
Feeling inspired?
From places with hot and sunny beaches, to destinations which are a little more niche, we hope that our list encourages you to try one of the amazing locations which we have discussed. Which one appeals to you the most? Let us know in the comments below.
Should your children be in need of learning to swim, or improving their swimming technique before you embark on an incredible adventure with them, visit: https://www.swimmingnature.com/sn-public/.