Nuffield Brondesbury Park


Nuffield Brondesbury Park Sidmouth Road London NW2 5JY


08445 04 05 06
email the centre
About this venue
This facility boasts a 20m pool with lounge spectating facilities as well as free parking.
Changing Rooms

Male and Female changing room facilities with lockers. £10 Returnable deposit or ID required for locker.
Entrance To Building

Entrance to building should be done through main reception.
Meeting Point

Please meet your Instructor on poolside.
Viewing Point

We ask all lessons are viewed from the reception area where there is a large window for doing so.
Transport

Free parking is available for up to 3 hours. Both Willesden Green Underground and Brondesbury Park Overground are within walking distance.
Other Information

Buggies can be left in the reception area. Customers must sign in at reception when entering the facility.
Venue Calendar
Autumn Term 2013
Sep 2 – Dec 22
more details
Spring Term 2014
Jan 6 – Apr 13
more details
Summer Term 2014
Apr 28 – Jul 20
more details
Autumn Term 2014
Sep 1 – Dec 21
more details
Spring Half Term Fast Track
Feb 17 – Feb 21
more details
The Instructors
Swimming Nature hand-pick and select teachers who have a great understanding of children and people, love swimming and patience in bucket-loads! This will help you or your child to relax and learn in an unpressurised environment, wanting to come back for more each week.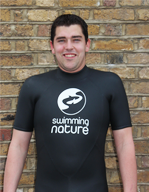 One of Swimming Nature's valuable teaching team – Deniss can speak English, Latvian and Russian! His sporting career is impressive! Not only a top swimmer - he competes in running, fencing, shooting and horse riding and has competed in Modern Pentathlon! With one of his greatest achievements competing and receiveing a medal in the Youth Modern Pentathlon European Championships. Deniss continues to demonstrate his passion for a wide range of sport regularly playing tennis, football, volleyball and fencing. For Deniss the personal aspect of each swimming lesson is one of the most essential features and he believes that getting to know the unique personality of each child allows for greater understanding, progression and closely tailored lessons. Deniss draws his years of enjoyment and experience of sport to fuel his continued energy and passion for swimming; a passion he clearly wants to inspire in the students he teaches!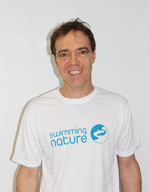 As a native of Barcelona, Fernando spent his childhood swimming regularly in the sea and became a confident open water swimmer from an early age. By the age of twelve he was competing in local water skiing and sailing tournaments and still has a whole host of trophies that show the beginning of a lifelong love of the water. Not only content to ski on water, however, Fernando possesses the Alpine Trainee Instructor Certificate from the British Association of Snowsport Instructors and also finds time to work as an assistant instructor at his local London Karate Academy! He holds a degree in Sports and Exercise Science and is a Bachelor of Education for Primary and Middle Years. For Fernando it is the unique 'hands on' techniques that Swimming Nature uses that are one of his most valuable teaching tools and considers providing each student with the means of understanding the feel of each correct movement an invaluable asset. Fernando demonstrates flexibility and adaptability when teaching to ensure each lesson is closely tailored experience as well as a fun one!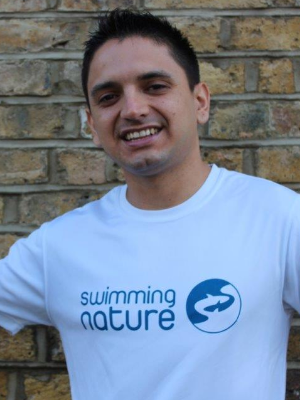 Swimming as a child in his native Spain, Juan increased his swimming experience in leaps and bounds, completing a degree in Physical Education and Sport alongside heading the university's Underwater Activities League and acting as a sports physiology monitor. Juan aspires to continue studying in conjunction with teaching to obtain a master's degree in Sport Nutrition and fittingly maintains a healthy and active lifestyle himself, enjoying a range of underwater activities. After the highlight of his team coming second in the National Underwater Hockey Interleague in Columbia, it is no surprise he is as committed to developing his swimming experience as he is his students. Juan enjoys teaching all ages, from babies to adults, and believes everyone can benefit from the exercise, enjoyment and confidence swimming offers. Similarly the logical sequence in which swimming skills are developed and the personalised experience each swimmer enjoys ensures a welcoming and engaging environment ideal for building confidence and encouraging progression.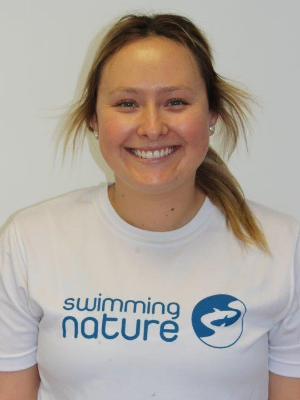 Listing her greatest personal swimming achievements as competing in the National Championships and in the Queensland State Championships, Kate brings a wealth of fantastic experience to her teaching role as an accredited ASCTA swimming teacher. Also enjoying competing in local open water events, Kate is clearly happier in the water than out of it! Having small class sizes and the support and encouragement of a teacher within the water alongside each student is one of the most valuable aspects of each lesson for Kate. She is able to establish a safe and welcoming environment that allows her to closely assist each student as they develop new skills and correct their technique as quickly and as often as is needed as they progress with each stroke. Likewise this enables Kate to deliver tailored lessons that focus on each student's individual requirements, allowing their skills to be continually and confidently developed. Having the opportunity in each lesson to pass on her expertise and encourage the same confident and enthusiastic relationship with swimming is what makes every day exciting!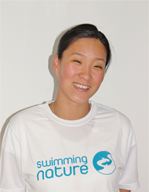 One of our talented trilingual teachers – she speaks English, Norwegian and Swedish – Lina has been an enthusiastic and committed swimmer as far back as she can remember! As a former international swimmer who qualified for two Olympic Games, we are thrilled that she chose to build on her invaluable experiences and become a Swimming Nature teacher. For Lina it is the use of hands-on teaching techniques employed by a teacher from within the pool that provides the continued development of skills and techniques in the correct way and ensures a positive response from each and every swimmer. Using her specialilty in the 50m and 100m freestyle and the Individual Medley events to build stamina and shape the techniques of the higher levels, Lina also believes everyone should have the opportunity to learn to swim and as such enjoys teaching all levels and age groups. She considers her teaching role to be a very rewarding one and enjoys passing on her knowledge and experience to each swimmer, encouraging them to enjoy the exciting pool environment, from the hopping Frogs to the speedy Swordfish!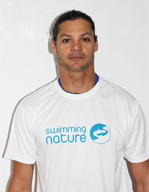 A fully qualified ASA swimming teacher with a degree in Physical Education from Brazil. Marcelo enjoys teaching in a variety of capacities and considers passing on his knowledge and encouraging new skills in his students to be the most rewarding role. With experience teaching in a school and working as a Capoeira Master, Marcelo has travelled all around the world pursuing a lifestyle that combines a healthy and active lifestyle with building on his teaching expertise. Marcelo brings his commitment to teaching and passion for swimming to every lesson, encouraging students of all levels and ages to gain confidence in new skills and develop their understanding of the water in a safe and engaging environment. From encouraging confidence within the poolside environment to supporting an independent experience within the water without floatation aids, he delivers engaging and welcoming lessons to students of all ages and abilities. With Marcelo children of all levels and abilities will have fun and engaging lessons!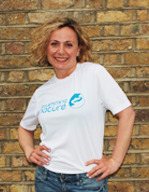 Marianna, has been teaching with Swimming Nature for a number of years and started to swim from the age of six and is still swimming - because she loves it! Enthuisiastic and passionate about swimming she has been fully qualified both in the UK and Italy since 2000.Her main hobby is sport and she enjoys the active lifestyle inclusing swimming, tennis, dancing, salsa. Being Italian - she has a love of the arts inclusing cooking and painting!
Marianna, is always happy and ready to please and such a positive person who is dedicated to her students. She has been working with children from the age of 18 and has been a nursery teacher and a nanny.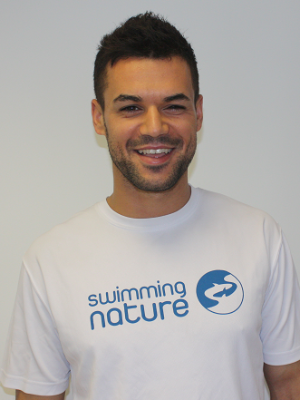 Oscar knew from a young age that he wanted to practice and teach sport and considers his position as a teacher to be a very rewarding one. He takes pride in using his knowledge and experience to encourage each swimmer to enjoy the exciting pool environment, from the hopping Frogs to the speedy Swordfish! With a Sports Science degree under his belt Oscar has the expertise to support his passion for teaching and each swimming experience inspires him to build his knowledge further. The strong emphasis within the company of keeping every teacher up to date with practical training and an understanding of the latest studies and teaching methods is a valuable asset to Oscar and is one of the elements that sets Swimming Nature apart. Likewise it is the diversity of the activities and skills offered and developed within the programme that makes every lesson an exciting and engaging experience for both the swimmer and teacher, aiming to establish and encourage a lifelong love of swimming!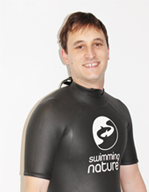 Vincent has always lead a healthy and active lifestyle, competing in numerous swimming championships in his native France, participating in five triathlons and working as a personal trainer. However it is having the opportunity to pass on his enthusiasm and passion for swimming as a teacher that inspires Vincent in each and every lesson. Vincent believes everyone should have the opportunity to learn to swim and as such finds teaching babies and young children to be the most rewarding experience, welcoming and encouraging the new Frogs and Seals into the water and seeing their faces light up in smiles as they explore their new environment is a personal highlight! From inspiring newfound confidence in and around the pool to supporting an independent experience within the water without floatation aids, Vincent delivers engaging lessons in a safe and relaxing setting. For him there is no greater feeling than establishing and encouraging a lifelong love of swimming from that very first step into the pool! Vincent has been teaching for over eight years with Swimming Nature and has a profound knowledge of the courses we offer. He is a qualified ASA Level 2 swimming teacher.